Elie Saab is a luxurious fragrance collection by master perfumer Marion Puinot, the brand's in-house perfumer. Elie Saab has been a renowned fashion designer since the early 2000s, and his fragrances have become a representation of his unique aesthetic of majestic elegance. His collection includes bold, timeless and captivating scents that evoke romantic sentiment mixed with contemporary flair. Whether you're looking for a gift for someone special or a personal indulgence, the Elie Saab fragrance selection has something for everyone.
The best-selling perfume in Elie Saab's line is Le Parfum. This classic scent contains a beautiful blend of orange blossom, jasmine, rose and honey, making it a timeless and versatile choice. The intense floral and citrus notes create a sensational aroma that's both alluring and elegant. There is also a lighter and more subtle version, Le Parfum L'Eau, with fresh and modern undertones, as well as a more sensual version, Le Parfum Intense.
Other popular scents in the collection include Girl of Now, a vibrant, girly and addictive scent that leaves an unforgettable impression. It contains notes of orange, almond and nuts, as well as patchouli, tonka bean and Immortelle. Le Parfum In Love is a delicate and romantic scent with accords of lemon, red fruits and white flowers, while Essence No.6 is an undeniably feminine smell featuring notes of jasmine, ylang-ylang, mandarin and vanilla.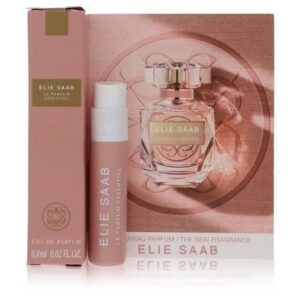 Elie Saab Perfume Ingredients
The Elie Saab perfume range includes a variety of luxurious ingredients, from mandarin and neroli to sandalwood, vanilla and patchouli. Every scent contains a unique mix of vibrant citrus fruits and soft, pleasant floral notes. The "Le Parfum" range tends to stick to a classic combination of jasmine and orange blossom, but use with hints of other scents such as rose, honey and almond.
The "Girl of Now" range has a lot more of a modern edge to it, using scents such as patchouli, tonka bean, as well as orange and almond notes. Even its natural ingredients such as immortelle are present in small quantities but lend an incredible depth and richness to the scent. The same goes for the "Le Parfum In Love" range, which focuses on citrus and white flower notes, with its use of lemon, red fruits and mandarin.
The "Essence No.6" range is the combination of both classical and modern fragrances, combining jasmine and ylang-ylang with mandarin and vanilla notes. Other ingredients in the range include benzoin, incense and sandalwood, creating a smooth and sensual experience.
Elie Saab Review
The Elie Saab fragrance collection is an exquisite selection of distinguished, luxurious scents that are perfect for any special occasion or everyday wear. The quality of the ingredients is top-notch, as is the thoughtful blend of floral and citrus notes, creating timeless and captivating aromas.
The collection includes something for everyone, from the classic Le Parfum to the light, modern Le Parfum L'Eau and the sensual Essence No.6. We love the unisex scent of Patchouli Le Parfum and Girl of Now, which is a bold and unforgettable aroma. All of Elie Saab's fragrances contain subtle hints of oriental ingredients that give the scent a unique and remarkable character.
If you love luxury fragrances and exquisite scents, we highly recommend the Elie Saab fragrance collection. With its blend of timeless and modern ingredients, it is sure to become your signature scent. Whether you're looking for something subtle and delicate or bold and intense, there's a scent in the Elie Saab range to suit your style.