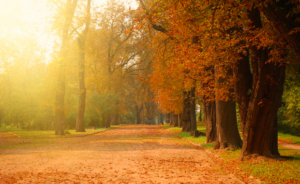 Crisp air and colorful leaves are two of fall's most prominent features. But did you know that it's the perfect time of year to choose a new fragrance? The change in seasons is the ideal excuse to switch from the summer scents to those with woodsy and citric undertones that complement the unique feel and air of those cool fall days.
In fact, you want something that goes well with the aesthetics that are offered by the boots, sweaters, and jackets in your wardrobe. Some popular scents include lavender and various types of musks. Then again, you might want something that's not as heavy on the floral side but a bit spicier, which is a common choice during the colder months.
What it comes down to is that the change in season can justify your desire to change your perfume. That is why it's important to introduce you to the six best perfumes for fall.
Your Fall Fragrance Lineup
When evaluating the following scents, keep your personal style and tastes in mind so you are sure to find a fragrance that stimulates your senses and your confidence.
Here's the breakdown:
1. Jadore In Joy by Christian Dior
While the dominant detail of the scent is floral, it has sandalwood and mandarin undertones with a little white musk thrown into the mix. Of course, the sandalwood is what makes it perfect for fall, but the floral detail is there for those that want to hang on to that summer feeling just a little longer.
This is a scent that says "I love life and I want everyone to know it." Even the bottle has personality.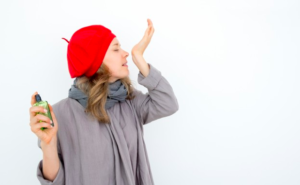 2. Beautiful by Estee Lauder
Beautiful is a fragrance that has been around since 1985. It's longevity is owed to its light floral scent and citrusy and woodsy undertones. The top floral notes include lily tuberose, marigold, and rose mandarin. There is something very warm and elegant about this scent. Perhaps, this is owed to the presence of vetiver and sandalwood.
3. Burberry Brit by Burberry
A popular brand, Burberry introduced the Burberry Brit fragrance in 2003. It contains a number of fresh notes that include Italian lime, icy pear, and lemon grass. However, the heart of the scent is comprised of lush peony, sugared almonds and a mahogany amber base with a touch of vanilla.
Even the bottle suggests, "I'm a great scent for fall," as it reminds you of the warm plaid shirts that are popular during the cooler months.
4. Illicit by Jimmy Choo
If you like a modern floral that has a warm honey-amber base, Illicit by Jimmy Choo fits the bill. The composition is opened with bitter orange and Ginger, but the heart of the fragrance is in the jasmine sambac and rose. This is another scent that lets you hang on to those warmer months while transitioning into the cooler ones.
5. Kelly Caleche by Hermes
The Kelly Caleche scent by Hermes is very unique, as it is in a good position to become a person's signature scent or one that is only used when in demand of a scent with leather undertones and floral notes.
This scent has many fall details, such as grapefruit, but it also has a hint of yellow mimosa, rose, and iris gourmand. This is a perfume that was once dedicated to famous Grace Kelly and the famous leather Kelly bag, but it is also one that has been dedicated to all ladies and young women.
Even the bottle is very beautiful and charming with a small lock around the neck of the bottle, which is symbolic of all three versions of the perfume.
6. Tiffany Co by Tiffany
While this perfume isn't exactly a rarity, it is a great scent for fall because its top notes consist of lemon and mandarin orange bergamot. Rose and iris black currant peach make up the middle notes. However, the base consists of musk and patchouli.
Launched in 2017, this is fairly new fragrance by Tiffany & Co.
Let Your Nose Be Your Guide
All in all,  let your nose be your guide. Think of the scents that you like and review this list to find what is going to appeal to you the most. For instance, a preference for a leathery scent to go with that fall leather jacket is going to most likely lead you to Kelly Caleche by Hermes. Then again, a desire to hang on to summer while migrating to fall can lead you to Jadore in Joy by Christian Dior.
The options are practically endless.