With its unique combination of floral and fruity notes, Lancôme's La Vie est Belle fragrance is a timeless classic. Its captivating scent has been embraced by women from all walks of life for over five years now. With its effervescent aroma, it is no wonder that this perfume has become a staple in many beauty collections. Let us explore what makes this exquisite fragrance so special and why we love it!
What is La Vie est Belle?
La Vie est Belle (which translates to "life is beautiful") was created by the luxury brand, Lancôme, in 2012. It quickly became one of their most iconic fragrances, featuring an addictive blend of sweet-smelling floral and fruity notes. The fragrant scent is composed of a sophisticated blend of jasmine, orange blossom, iris, blackcurrant, raspberry, and praline with an undercurrent of patchouli and vanilla.
Why We Love It:
It is no wonder why so many women have fallen in love with this classic fragrance. Its inviting aroma has the power to elevate any mood or occasion. Whether you're looking for something romantic or something more energizing, La Vie est Belle can provide whatever you need – all thanks to its carefully curated mix of scents!
Another great thing about this perfume is that it can be worn throughout the day without becoming cloying or overwhelming. The notes are light enough to remain in the background of your outfit, allowing you to enjoy your favorite scent for hours on end.
Top Lancôme's La Vie est Belle fragrance: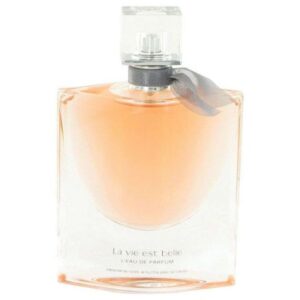 Lancôme's La Vie est Belle is truly one of the finest fragrances available on the market. With its timeless design and high-quality ingredients, this perfume will never go out of style. Its perfect mix of scents captures the beauty and joy that life has to offer – making it a beautiful reminder of why life should be celebrated each and every day!
Conclusion:
We hope you now have an even deeper appreciation for Lancôme's La Vie est Belle fragrance. With its addictive aroma and timeless design, it can make any woman feel confident and radiant in her own skin. So, if you're looking for a classic scent that won't let you down, this is definitely the one for you!
So, don't wait any longer – treat yourself to a bottle of La Vie est Belle today and discover why it has become so beloved by women of all ages. We know it won't take you long to fall in love with this exquisite perfume!