The world's most famous fragrance is undoubtedly Shalimar. First released in 1925, it has become a classic scent that both men and women worldwide use. Its spicy yet sweet aroma has explored many generations, with its use becoming more popular as time passed.
Jacques Guerlain created Shalimar to evoke the passion of an exotic Indian garden, and succeeded. With a base note of vanilla, warm spices like cinnamon, cardamom, and clove mix with oriental flowers like jasmine and rose to create an unmistakable yet timeless scent. The powdery-like notes of iris, tonka bean,, and opoponax bring a softness to the fragrance that further enhances its character.
Shalimar is a classic scent that never fades in popularity and has been used as an inspiration for many other fragrances released over the years. Its pioneering status makes it an iconic scent loved by fragrance aficionados worldwide. With its mix of sweetness and spice, Shalimar's aroma will continue to linger through time, making it the most famous fragrance in the world.
Top Shalimar Perfume: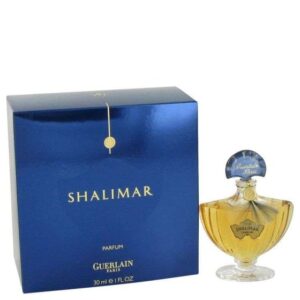 1. Shalimar (Guerlain): This classic fragrance is original and still provides a perfect balance of sweet, spicy, and sensual aromas.
2. Shalimar L'Instant (Guerlain): A more contemporary interpretation of the original that focuses on powdery notes for a softer finish.
3. Shalimar Parfum Initial (Guerlain): This intense version has added woody accents to give it an even more sophisticated edge.
4. Shalimar Ode à la Vanille (Guerlain): With a name meaning "ode to vanilla," this version highlights the warm sweetness of its base note with orange blossom and cedarwood undertones.
5. Shalimar Souffle de Parfum (Guerlain): A softer, lighter interpretation of the original with a base of milkyvanilla and enveloping musk.
6. Shalimar Eau de Parfum (Guerlain): The original eau de parfum is a classic combination of spicy and sweet that's perfect for day or night.
7. Shalimar Cologne (Guerlain): This beautifully scented cologne has citrusy top notes of bergamot combined with middle notes of rose, jasmine, and ylang-ylang to give it a floral heart.
8. Shalimar Eau De Toilette (Guerlain): With an aroma that evokes memories of love and joy, this EDT version is a must-have for any fragrance lover.
9. Shalimar Parfum (Guerlain): This perfume version has a deep and rich scent that makes it perfect for special occasions.
10. Shalimar Body Lotion (Guerlain): With a unique blend of bergamot, orange blossom, and cedarwood, this body lotion will keep your skin soft and subtly scented all day long.
Shalimar remains the world's most famous fragrance due to its timelessness, and quality, and beautiful aroma, so much so that it has inspired many other fragrances over the years! If you are looking for an unforgettable scent that will last through generations, look no further than Shalimar. It will surely be a classic scent in your fragrance collection for years to come!
Shalimar: A Timeless Fragrance For Any Occasion
Shalimar has become a timeless, iconic fragrance over the last century, and with good reason. Its unique combination of sweet and spicy aromas creates an unforgettable scent that never fails to please. Whether you are looking for a special occasion perfume or something subtle to wear daily, Shalimar is a perfect choice. With its original eau de parfum, eau de toilette, cologne, and body lotion versions available in different strengths, it can easily be adapted to fit any situation or mood.