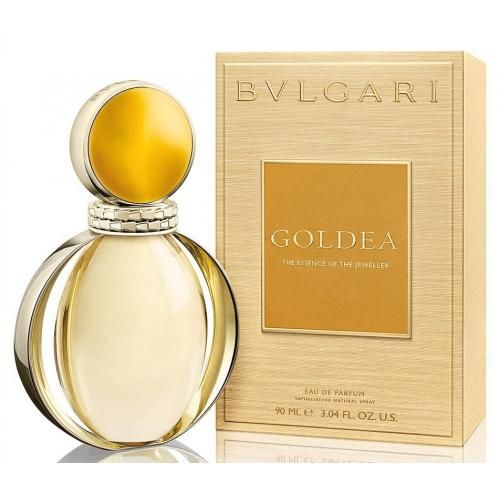 Our large collection of original, name-brand perfumes includes bestselling fragrances like Goldea By Bvlgari. This fragrance is appealing on many different levels. While you may first be drawn to it by the packaging, it convinces you to wear it with the first release of flowery top notes. Patchouli, amber, and ylang-ylang are the scents you'll associate most with this perfume, which is why this sensual fragrance may just become a new favorite.
About Bvlgari
You may want to write the perfume name as "Bulgari" because that is how it is pronounced. The 'v' instead of the 'u' in the name stems from its Latin origins. The company was founded by Sotirious Voulgaris in 1884 and initially sold mostly Italian luxury goods and jewelry. It wasn't until more than a hundred years later that Bvlgari started producing perfumes. In 1992, the first Bvlgari perfume was released – a unisex fragrance that's still popular today. When it comes to creating fragrances, Bvlgari is proud to work with the best of the best. Perfumers like Jacques Cavallier, Alberto Morillas, and Annick Menardo have collaborated on Bvlgari fragrances.
About Goldea By Bvlgari
Goldea is one of the newest fragrances by Bvlgari. It was released in 2015 and developed by Alberto Morrillas. The name of the fragrance itself means "Gold Goddess". Gold and light were the inspiration for this creation. Goldea is an oriental scent with many floral notes. Most notably, you'll notice orange blossom, ylang-ylang, patchouli, and jasmine. As the name implies, the fragrance is appealing in a feminine and sexy way. It's sweet and sensual at the same time.
The Fragrance
Goldea By Bvlgari smells sweet and sensual with the first spritz. As with all perfumes, you'll notice different smells after leaving it on for a little while. And even though the top notes are fruity and sweet, the heart notes really draw you in, and the base notes give you delicious scents to remember.
TOP NOTES
The top notes for this fragrance include orange blossom, bergamot, and musk. The sweet fruity and flowery smells combine to a noteworthy scent that the wearer and anyone else will notice right away. It's up to you how much you want to apply, but a couple of spritzes will be enough to get you through the evening with this scent. If you want to wear it all day, you may need to reapply occasionally.

HEART NOTES
The most noticeable smell people associate with this fragrance is ylang-ylang. This scents is part of the heart notes or middle notes, which will be apparent within a few hours of wearing the fragrance. Jasmine and musk are also included. Chances are when you recall the scent of this fragrance, ylang-ylang and jasmine will be the domineering smells. Some people also associate raspberry from the top notes with Goldea, but everyone's perception of this fragrance will be slightly different due to the uniqueness of applying perfume to skin.

BASE NOTES
Musk appears to be a prevailing scent because it shows up in the top notes, heart notes, and base notes. However, you won't remember Goldea for musk. Instead, you'll probably think of patchouli, papyrus, and amber, which are included in the base notes along with musk.
When to Wear It
Goldea By Bvlgari is perfect for spring and summer nights. This could become your favorite fragrance to wear on date night with your partner or for a first date with a new potential mate. The flowery, sensual sense will make you feel beautiful and desirable, much like the goddess you are. The smell is not only feminine but also sweet, thanks to the patchouli.
The Trappings
The packaging is just as appealing as the fragrance itself. It comes in a beautiful golden bottle, which is luminous to behold. Seeing the bottle makes you want to try the scent. The packaging itself is just as artfully done with golden lettering and different gold hues on the box. If you're giving someone a bottle of Goldea By Bvlgari as a present, you won't need to wrap it. They'll appreciate it like it is.
How to Order Goldea By Bvlgari
You can order Goldea conveniently online at Awesome Perfumes. We're proud to offer this fragrance for 61% off the retail price. Shipping is free within the continental United States for this item. We carry the 3.04 oz bottle, and it's available to order and ready to ship. Even though we offer drastic discounts for this perfume and many others, we only sell authentic fragrances. You can find Goldea By Bvlgari here, or you can browse through other perfumes by the same manufacturer.