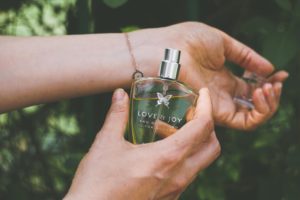 There are a number of seductive perfume scents that attract men to women.
An alluring scent has the power to grab a man's attention. From fruity and vibrant aromas to more seductive tones; perfume has the power to draw in others.
However, knowing what type of scent men enjoy on a woman can be difficult given the number of bottles available to pick from. To prevent this confusion from impacting your choice the article below outlines the top-selling bottles that men like the most on women.
J'Adore by Dior
J'Adore by Dior is a favorite for men because of its fresh and floral notes that are feminine and luxurious. This appeal is achieved with the use of ylang-ylang, Damascus rose and jasmine. In turn, making for a light and sensual bottle that can easily be worn daily.
Black Orchid by Tom Ford
Another favorite perfume that men like on women is Black Orchid by Tom Ford. This bottle is favored by men for its dark and mysterious floral notes that seduce the senses of others. The warm notes of this perfume are created by black truffle, bergamot, black orchard, black plum, and patchouli.
These ingredients expertly mix together to form a modern and unique aroma that is guaranteed to attract the attention of others.
Coco Mademoiselle by Chanel
Coco Mademoiselle by Chanel is another favorite bottle that men enjoy on women for its classic and iconic appeal. This sexy fragrance is both fresh and light that will easily be enjoyed by women everywhere. The top notes are made of orange, orange blossom, bergamot, and jasmine with middle notes of vanilla and Tonka bean to expertly balance the bottle.
Daisy by Marc Jacobs
Men are also attracted to the light and fresh appeal of Daisy by Marc Jacobs. This bottle is comprised of strawberry, violet leaves, and jasmine for a charming and beautifully created bottle.
Viktor and Rolf Flower bomb
Viktor and Rolf's Flower bomb is an elegant and seductive scent that appeals to men for its warm yet sweet notes. This intriguing combination is achieved with its keynotes of jasmine, orange blossom, and patchouli that expertly combine to form the unique mixture.
Yves Saint Laurent Black Opium
Men also tend to enjoy Yves Saint Laurent's Black Opium for its mysteriously warm and spicy notes. The warmer notes of this bottle leave a long-lasting impression because of the ingredients that are not typical in other women's bottles. The keynotes of the perfume are comprised of black coffee, white flower, and vanilla that appeals to a man's nose and are guaranteed to attract attention.
Light Blue by Dolce and Gabanna
Light Blue is a bright and airy scent by Dolce and Gabanna that men are undeniably attracted to. The fruity aroma is comprised of Sicilian citron, bluebell, granny smith apple, jasmine, cedarwood, amber, and musk. This bright scent can easily be worn throughout the day given its versatile appeal.
Bamboo by Gucci
Another favorite scent that's worn by women is Bamboo by Gucci. This bottle is favored by men around the world for its strong yet elegant appeal that makes women seem confident and poised by wearing it.
This soft yet intense fragrance is created from the expertly combined scents of Italian bergamot, Casablanca lily, ylang-ylang, and Comoros sandalwood that appeal to the elegance and femininity of women.
Ultimately, it can be difficult to know what scents appeal to a man. Despite this difficulty, there are a few iconic bottles that are guaranteed to please given their long lasting and seductive nature. If you're interested in learning more about perfume contact a member of our team today.
Image: Unsplash