The most awaited season of the year is here! 
As we all go jaunty singing the Christmas carols and attending dinners, we always look up to wearing the best perfume in our closet. Dressing up feels incomplete without wearing a fragrance. 
As you change your clothes according to the weather, you should equally choose appropriate perfumes and colognes. Different seasons call for a different choice of perfumes. 
Winter is approaching, and we all look for the perfect perfumes to compliment it. Perfumes are to be worn in the contrast of the season. For example, light and floral fragrances go well with summer and spring as they pacify us and make us feel cool and calm. 
On the other hand, woody, musky and oriental fragrances go well with winters, as it is all about adding the extra heat which our body is constantly looking for. 
If you are perplexed in choosing what goes best in the cold weather, follow our simple, informative, and super helpful options to make you feel amazing this winter. 
Before going straight to giving you the best suitable options for the winter fragrances, we shall discuss some of the important points. 
You should always spend some time and know your perfumes just like the way we give time to try and walk before choosing the best-fit shoe. 

Give yourself 3 to 5 minutes after spraying, so that it blends well and gets settled down perfectly. Once it is settled, you will quickly get the click – whether it is working for you or not.

If you tend to spray the perfume on your wrist or neck, do not rub it with the other hand. It will destroy the actual essence and some top notes of the perfume.

For winters, go for spicy, musky, woody, sweet, and oriental base notes that make the base of a perfume.

Do not copy what your friend or colleague is wearing. Each one of us has different body chemistry. It reacts differently to different individuals. 
Best fit fragrance for winters: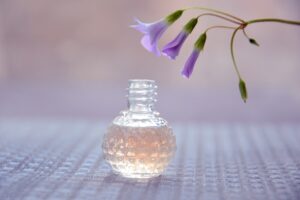 Floral – As the name says, floral perfumes are strong tones of flowers. Rose, Lavender, Lily, Daisy, and Jasmine are usually used to bring a soothing balance. These perfumes are suitable for the day, especially on beaches.
Fruity – Fruit fragrances are spicy, juicy, sweet, and fresh. It instantly lightens up your mood and makes you feel bubbly and cheerful. 
Woody – Wood-based fragrances are specially curated to be used in the winter season and cooler months. These perfumes usually have cedar, patchouli, and sandalwood which adds an organic richness. Woody perfumes and colognes are warm and preferred in winters.
Greens – Where woody perfumes encapsulate the elements of forest and woods, green perfumes tend to have an aesthetic edge of grasslands and spring fields. They are versatile and can be worn at any time of the day. 
Oriental – Oriental perfumes are considered to be the strongest of all. They have appealing and sensual notes. They are the perfect choice for events, evening parties, and special occasions. 
Now that the basics about choosing a fragrance are clear, let us move ahead with discussing the different fragrances ideal for winters. 
As winter is approaching and autumn is ending, nothing goes better than Yves Saint Laurent's Black Opium. It is a perfect match for welcoming a new season with warmth. It has the right balance of coffee and vanilla that engulfs you into a sweet, delightful yet extremely sensual fragrance. 
Tom Ford's velvet orchid has a floral and oriental fragrance. It is known for its true luxury and class. The extraordinary fusion of mandarin orange infused with rum, honey, and bergamot makes it more appealing. It keeps you warm in winters by keeping its floral and sweet quotient intact. Embrace yourself with Velvet Orchid Eau De Parfum from Tom Ford's signature collection this winter.
Alien eau extraordinaire
by Thierry mugler
If you wish to spend wisely and never want to regret it in the future, then Thierry Mugler is highly recommended. It is a must-have fragrance in your wardrobe. Alien Eau Extraordinaire is said to be a go-to choice for the winter season. An amazing blend of Sambac jasmine, white amber, and cashmeran wood is a perfect winter warmer. The aroma is so captivating that you would want to wear it every single day in winter. 
Lady Million Eau de parfum spray
by Paco Rabanne
If you never had the chance to wear a Paco Rabanne, this is the right time. It is a timeless classic fragrance. Your closet will look incomplete in the absence of a lady million. The right balance of patchouli honey, orange blossom, neroli, and raspberry creates a fantastic vibe. It will instantly make you feel happy, warm, and cozy in heavy clothing and deep winters. 
Jo Malone Pomegranate Noir
by Jo Malone
If Jo Malone is a name missing from your collection, now is the time to give it a big round of shoutout. It is one of the most loved and admired fragrances ever. It has a perfect amalgamation of Casablanca lily, guaiac wood, pomegranate, and juices of some red fruits. Jo Malone's Pomegranate Noir is a must-have fragrance for the luxurious aroma that everybody loves. 
Libre
by Yves saint laurent
While it is getting wintry out there, the floral notes are one of the best options to have. A fragrance roundup is incomplete without the gorgeous fragrance by Yves Saint Laurent. It has a huge fan base, as Dua Lipa is the face of the brand. The floral edge is complemented by orange blossom, jasmine, and lavender. Libre blooms out freshness and warmness when these flowers are mingled with cedarwood and vanilla to create magic. 
What experienced industry people and celebrities say about winter fragrances – 
"During the winters, heavy clothing and the fall in the temperature does not emanate the fragrance as easily as it would in the summer or the spring season. Winter perfumes depend on one's body chemistry. If your skin is dehydrated, your body needs a fragrance that has an essence that is warm and intense, as compared to other seasons. Fragrances linger well on skin that is not dry and enhances the staying power of the fragrance." – Fiona Caroline, Parfum Christian Dior
"Jo Malone's fragrance is my favorite thing, so much so that if I leave the house and don't put any on, I'll turn around and go back home. Yep, that's a commitment to cologne. – Meghan Markle