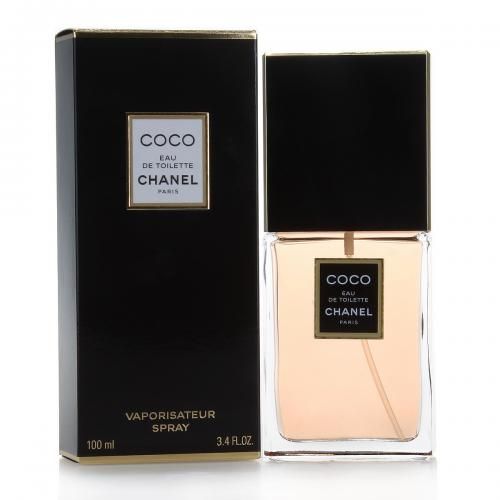 Whether you're drawn to oriental perfumes or new to spicy fragrances, Coco By Chanel is an Eau de Toilette for Women that has become quite a favorite. Created by Jacques Polge, this fragrance makes an impression using balsamic and sweet notes. At Awesome Perfumes, you can find Coco By Chanel at a significant discount of the original retail price. Here we'll tell you a little bit more about this fragrance.
About Chanel
Gabrielle "Coco" Chanel was an influential French fashion designer and businesswoman. While she designed the Coco Chanel monogram, which has been associated with the brand since the 1920s, she's more remembered for the Chanel bag, innovative jewelry, and the classic Chanel look. While the Chanel brand is most known for Chanel No. 5, Coco By Chanel has received appropriate attention – and not just because it was named after the founder.
Coco By Chanel
This unique fragrance is very much a reflection of Gabrielle Chanel's personality. The fragrance includes floral and spicy Oriental notes, and it's an intense scent that helps you get ready for any adventure you are planning. The Eau de Toilette version is lighter and less intense than the perfume. Both have a spicy yet classy smell to it that's easy to distinguish but not necessarily easy to pick out individual scents from. Its balsamic, sweet, and spice notes make this fragrance stand out from the others.
The Breakdown
A small bottle of Coco By Chanel For Women can last for a long time. While it comes with a spray, you only need to apply it sparingly for maximum effect. The fragrance sticks close to the applied areas, which is important if you don't want to spread it to the rest of the room. The main scents of this perfume include Bulgarian Rose, cloves, and sandalwood.
Top Notes
The top notes for this fragrance include mandarin, orange, peach, jasmine, coriander, and Bulgarian Rose. Predominantly floral and fruity scents are exactly what make this perfume so appealing from the very first scent. The unusual note would be coriander, which is what gives this fragrance its oriental flair.
Heart Notes
The heart notes of this fragrance are the ones you're going to remember later. They include mimosa, orange blossom, clover, cloves, and rose. These floral scents are pleasant yet strong, which means they carry this fragrance through the day or evening. Most people agree that cloves is one of the main notes in this fragrance, but you can test this for yourself.
Base Notes
Base notes are necessary to give a fragrance a long-lasting appeal. For Coco By Chanel For Women, the base notes include sandalwood, tonka bean, amber, labdanum, opopanax, vanilla, and civet. Amber and sandalwood are relatively easy to pick out, but the rest of the scent combinations blend in to create one refreshing fragrance.
Who This Perfume Is For
Coco By Chanel For Woman can be directly applied to your skin or clothing. It's the perfect scent for women who are daring and adventurous or want to be. If you like Oriental fragrances, then this is the right one for you to try. The floral scents keep this perfume feminine without blending in to the background. Many fans of this fragrance love the smell of it, although they find it difficult to pick out individual notes. The unique blend of these scents makes Coco By Chanel a favorite in the Chanel collection of fragrances.

Packaged to Delight
One of the greatest benefits of purchasing perfume or colognes as a gift is that they already come with fancy packaging. Coco By Chanel is no exception. This Eau de Toilette comes in attractive black and golden box. The fragrance itself is in a see-through glass bottle with a large black lid. The rectangular shape of the bottle shows that this perfume is great for woman with business on their mind. It is appropriate to wear for your day at work, whether you're signing contracts or negotiating with clients.

How to Order
You can order Coco By Chanel directly from our website. At Awesome Perfumes, we pride ourselves in offering this fragrance and many others at a great discount. Coco By Chanel Eau de Toilette for Women comes in a 1.7 ounce bottle. Judiciously applied, this scent can last you for months, but it will make a big difference to your day when you really need to stand your ground. Coco By Chanel is also a great present for the important woman in your life.