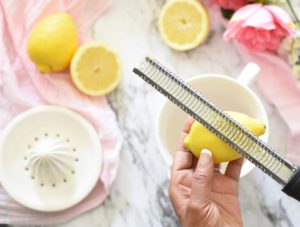 Fruity scents leave an attractive and appealing aroma.
There is nothing more feminine and alluring than a sweet and fruity scent worn by a woman. Not only will a delicately sweet scent compliment a person's beauty but it can easily be worn by all.
However, deciding which fruity scent to purchase can be difficult given the large variety there is to pick from. This article hopes to eliminate some of that confusion by outlining the top 10 fruity presumes for women.
Light Blue by Dolce and Gabbana Perfume
This perfume is both bright, lively, and filled with beautiful fruity aromas. The bottle is comprised of Sicilian citron, granny smith apple, and bluebells that make up the appealing scent. The base notes are of jasmine, fresh bamboo, and white rose that helps add to the feminine appeal of the bottle.
Boss Femme by Hugo Boss Perfume
Women looking for a subtle yet fruity perfume to add to their collection should choose Boss Femme by Hugo Boss. This bottle uses a soft blend of tangerine and blackcurrant mixed with base notes of white florals (stephanotis, rise, and oriental lily) that will leave behind a warm and alluring scent.
Flowerbomb by Viktor and Rolf
Another powerfully floral scent that women will love is Flowerbomb by Viktor and Rolf. This bottle is both warm and sweet with its top notes of jasmine, orange blossom and patchouli that leave behind a fruity and fresh aroma. The bottle also uses more subtle notes of bergamot, mandarin, jasmine and vanilla that help balance the scent.
Daisy by Marc Jacobs
Marc Jacobs's Daisy is a fresh, fruity and floral perfume that women will easily be able to wear throughout the day. The simple scent uses keynotes of strawberry, violet leaves and jasmine that have expertly been combined with warm jasmine, sandalwood and wild berries for an alluring appeal.
Saint Eau de Parfum by Kat Von D
For women who would like a classic floral scent, Saint Eau de Parfum by Kat Von D is the perfect addition to your collection. This bottle uses the timeless appeal of vanilla, musk, and jasmine that have been expertly mixed to create a classic smell that is guaranteed to please.
Bright Crystal by Versace Perfume
This perfect scent by Versace uses a great blend of fresh fruity notes. The bottle's keynotes are of the soothing blossoms of peony, magnolias and lotus flower combined with musk that will add interest to the wearer for its sensual fruity notes.
Elie Saab's Girl of Now Forever
Girl of Now Forever by Elie Saab is the perfect bottle of perfume for women wanting to add fresh fruity addition to their collection. This bottle is the perfect bright scent that uses top notes of lemon zest and raspberries to give it its vibrant appeal. It's base notes help to balance the bottle with the use of patchouli, vanilla, and musk for a warmer underdone.
Viva La Juicy by Juicy Couture Perfume
This bottle uses an expert blend of fruity scents that have been captured in a whimsical bottle. The fragrance's top notes are of wild berries, mandarin orange and combined with a blend of honeysuckle, gardenia, and jasmine to give it a unique appeal.
Aquolina Pink Sugar Eau de Toilette
For women seeking a super sweet and bright scent, Aquolina Pink Sugar's Eau de Toilette is the ideal choice. This bottle is known for its intensely fruity and sweet aroma that's made from bergamot, Sicilian orange and fig leaves that combine to create a scent reminiscent of candy floss.
Bvgari Mon Jasmin Noir Eau de Parfum
Bvgari's Mon Jasmin Noir Eau de Parfum is a mysterious fruity scent that uses darker tones in its mixture. The bottle has a more luxurious feel to it with its use of lily, Sambas jasmine, musky nougatine and vibrant woods for an intriguing and powerful aroma.
Ultimately, there are a number of interesting fruity scents that women can pick from. From more powerful and intense aromas to light appealing scents; selecting a bottle can be an intimate choice. If you still need help picking a fruity bottle to add to your collection consider getting in touch with a member of our team for help.
Image: Unsplash